Apr 24 2012
Unknown
If you had a good gpa, they don't give a crap about your SAT/ACT.
Female
Apr 23 2012
Psychology
I recommend getting everything in early especially if you want to get the university grant and other scholarships. Early as in no later than February 1st if possible.
Female
Mar 30 2012
Biology
Nothing transferred from junior college.
Male
Dec 22 2011
Math
Anyone can get into ASU---it's obvious. However, if you want to get into the business or engineering school the requirements are a bit tougher but still very easy. For Barrett, the Honors College, expect to have a profile that is similar to those people applying to schools in the top 50. That is, top 5-10% of HS graduating class, ~1800 at least on the SAT and decent community service and leadership experience should make you competitive for Barrett.
Male
Dec 09 2011
Undecided
All you have to do is literally sign your name. 90 percent acceptance. I wouldn't recommend applying here if you are not for sure going save you 50 dollars.
SAT: 1500 Female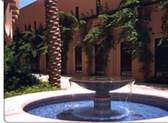 Similar Colleges by Education Quality