Dec 22 2011
Math
Anyone can get into ASU---it's obvious. However, if you want to get into the business or engineering school the requirements are a bit tougher but still very easy. For Barrett, the Honors College, expect to have a profile that is similar to those people applying to schools in the top 50. That is, top 5-10% of HS graduating class, ~1800 at least on the SAT and decent community service and leadership experience should make you competitive for Barrett.
Male
Dec 09 2011
Undecided
All you have to do is literally sign your name. 90 percent acceptance. I wouldn't recommend applying here if you are not for sure going save you 50 dollars.
SAT: 1500 Female
Nov 27 2011
Political Science
As far as I can tell, anyone can get into ASU.
The cliche that "you get what you want out of the academics" is 150% true here. If you want to skid by and major in communications or something really easy and not work very hard, you can.
On the other hand, there are some SERIOUSLY talented and fantastic faculty that will guide you through amazing ideas and concepts. Ive had a good experience in the global studies department so far. The teachers are nice and helpful and smart, and with the exception of my econ prof who is from the czech republic, everyone is super understandable and speaks english well.
The upper division religion, philosophy, and global studies classes are excellent. If you are looking for a good polysci type degree, asu is for you.
My best friend is an architecture major and from what ive seen he is getting a top notch education as well.
ACT: 31 Female
Oct 25 2011
Finance
Anything, all you need is a 2.0 hs gpa
ACT: 31 Male
Dec 27 2010
Psychology
My high school GPA stank. I got into ASU through earning an Associate's with a 3.35 GPA. If you're out of state, consider moving here, going to one of the community colleges--which are cheaper and have a FIXED transfer credit system--and transferring after you qualify for in-state tuition.
Male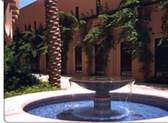 Similar Colleges by Education Quality