Sep 13 2010
Chemistry
If you have the money and a pulse you'll get in.
Female
Mar 15 2010
Finance
Just apply. It is really easy to get in.
ACT: 27 Male
Mar 10 2010
Economics
LOL!!!!! 70,000 students! The largest enrollment in the nation! Number 1 party school in the nation for soooooo man years in a row! It's loose admissions make some community colleges look like IVY league. Don't make the same mistake I did by going here, in fact don't go to Arizona schools, go out of of state to California or Texas.
ACT: 16 Female
Mar 05 2010
Chemistry
ASU is very easy to get into. The honors college is more difficult, but it is easier to get in once you attend ASU.
ACT: 34 Male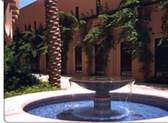 Similar Colleges by Education Quality