Nov 26 2010
Communications
I'm pretty sure the only reason they wouldn't let you into this school is if you were found guilty for murder. They basically accept everyone who turned in an application.
ACT: 23 SAT: 1160 Male
Sep 13 2010
Chemistry
If you have the money and a pulse you'll get in.
Female
Mar 15 2010
Finance
Just apply. It is really easy to get in.
ACT: 27 Male
Mar 10 2010
Economics
LOL!!!!! 70,000 students! The largest enrollment in the nation! Number 1 party school in the nation for soooooo man years in a row! It's loose admissions make some community colleges look like IVY league. Don't make the same mistake I did by going here, in fact don't go to Arizona schools, go out of of state to California or Texas.
ACT: 16 Female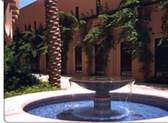 Similar Colleges by Education Quality