Mar 05 2010
Chemistry
ASU is very easy to get into. The honors college is more difficult, but it is easier to get in once you attend ASU.
ACT: 34 Male
Feb 17 2010
Social Work
Are you kidding????? ASU is the community college that thinks its a university?
ACT: 25 Male
Jan 18 2010
PreMed and Medical
ASU checks for your pulse and your taxes, and that's about it! I read they have a 95 pecent acceptance rate-I'm not surprised!
SAT: 1880 Female
Dec 12 2009
Criminal
I recommend staying the hell away.
Male
Nov 08 2009
Other
I did not even submit my SAT scores until 2 months after i received my letter of acceptance.
SAT: 1360 Male
May 05 2009
Criminal
If you can't get in here may god help you
Female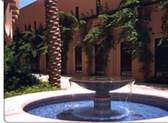 Similar Colleges by Education Quality