Dec 18 2008
Sociology
had a 2.5 highschool gpa.
its really easy to get into asu
Female
Nov 22 2008
Anthropology
They admit pretty much anyone--if you have a pulse and can pay for the application fee--you get in.
Female
Nov 08 2008
Business - Management and Administration
You have to understand that this school has a 95% acceptance rate. I'm pretty sure you're gonna be fine.
W.P. Carey school is a little tougher, though. Just have above a 3.0, a mid-to-high 20 on the ACT or a 1100 math+reading on the SAT and you'll be FINE. There are no essays!
Female
Nov 03 2008
Journalism
ASU is ridiculously easy to get accepted to. The journalism department has higher standards, but definitely not out of reach. Take the SAT's a couple times to show that you put forth an effort, achieve the minimum GPA (3.5 I think?) and you're in.
SAT: 1900 Female
Oct 27 2008
Undecided
Apply and your in. ASU accepts pretty much anyone who applies.
Male
Oct 12 2008
Undecided
If you have half of a brain stem, you can sound-out and repeat the alphabet, and you can add simple math (nothing above 20+10) then you're a shoe-in at ASU.
Male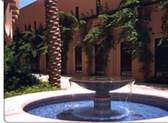 Similar Colleges by Education Quality