Oct 06 2008
Video/Media
Are you serious? Anyone who's got a right arm can get into this school. President Crow continues to up tuition and increase capacities to keep raking in the big bucks.
Female
Jul 16 2008
Political Science
you must merely fill out the online form and indicate that you are willing to pay the necessary money for an overly inflated tuition.
Female
Jul 08 2008
PreMed and Medical
The staff isn't helpful in admissions, but it doesn't take rocket science to fax them simple documents,etc.
ACT: 24 Male
Jun 28 2008
Other
I applied. ASU will take anybody...and it seriously shows.
Male
Nov 19 2007
English
Oh, it is so easy... anyone can get in to the main colleges. Specific programs have more rigorous standards.
SAT: 1430 Female
Oct 28 2007
Art & Design Department
You don't have to do much to get into Arizona State. I am surprised most of the people that attend are actually in college.
Female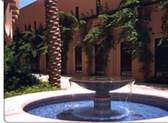 Similar Colleges by Education Quality