Nov 19 2007
English
Oh, it is so easy... anyone can get in to the main colleges. Specific programs have more rigorous standards.
SAT: 1430 Female
Oct 28 2007
Art & Design Department
You don't have to do much to get into Arizona State. I am surprised most of the people that attend are actually in college.
Female
Mar 09 2007
Other
Unless you have downs syndrome, you can get into this school.
ACT: 28 SAT: 1300 Male
Nov 03 2006
Undecided
Basically, all you have to do to get in from in-state is not be a complete retard. From out of state it is still pretty easy but DO NOT BE FOOLED BY THE PALM TREES AND GOOD WEATHER.
ACT: 30 SAT: 1430 Male
Oct 24 2006
Mechanical Engineering
Practically nothing. I applied, and they gave me money to come here.
ACT: 28 SAT: 1280 Male
May 18 2006
Other
I took all General education classes at the local community college and saved alot of money. Currently, just about anyone can get into this college...but that may change if President Crow actually takes the appropriate steps to improve things.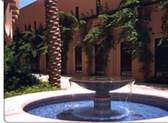 Similar Colleges by Education Quality