Your Chances at DU
(on ACT score alone)
Your Chances at DU
(on SAT score alone)
Men

Women

# Applicants

12,202

13,260

# Admitted

2,009

2,187

% Admitted

16.5%

16.5%

% Overall

16.5%
Jul 19 2014
PreMed and Medical
Attending Duke is probably the best decision I have ever made in my life
ACT: 33 SAT: 2120 Female
Jun 14 2014
Engineering Department
Had a high SAT score (1570 CR+M/2370 CR+M+W) and high GPA (3.99 unweighted, top 5 in class), did things I enjoyed in high school, and wrote meaningful essays. Getting to know my teachers and councilors well, coming from a large public school, really helped with my recommendations. It's important to avoid generic recommendations. Also, being a female engineer certainly helped!
SAT: 1570 Female
Feb 19 2013
Chemistry
well rounded, passionate, good grades/scores, have personality
SAT: 1530 Female
Jul 14 2012
Engineering Department
Be creative. Good grades. Love meeting new people. Be friendly. Be an athlete. Be motivated and be tenacious. And Just DU it!
ACT: 35 SAT: 2270 Male
Apr 27 2012
Public Policy
Be passionate. Get good grades and test scores (I had a 3.99 from a lower-medium quality public high school and got a 35 on the ACT exam). Visit - if you visit, I can't see how you wouldn't want to go here.
ACT: 35 Female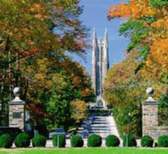 Similar Colleges by Education Quality