Florida International University
Your Chances at FIU
(on ACT score alone)
Your Chances at FIU
(on SAT score alone)
Mar 17 2014
Chemistry
I applied. Although I here the administration has become so self-adsorbed that they are practically asking requirements on par with better universities (delusions Ivy League university standings).
Male
Nov 25 2013
Criminal
Got into the university after finishing my first 60 credits at Broward College and graduating there with a 3.7 GPA. Not a hard school to get into if you already have your AA degree.
Female
Oct 23 2013
Biology
Get at least a 3.0 and a minimum of 1400 sat score to get in.
ACT: 21 SAT: 1300 Female
Oct 10 2013
Biology
Transfer student...it was not hard to get in.
ACT: 23 SAT: 1180 Female
Dec 26 2012
Social Work
I am talking about my own experience with the school of Social Work. If you want to get in to this school, be careful and double check with the adviser if you have all the requirements to go through the process of graduation by asking written advisement, so you have a proof just in case this person make a mistake when advising you.
Female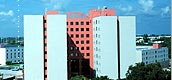 Ranking Similar Schools by Education Quality