Men

Women

# Applicants

4,412

6,987

# Admitted

1,542

2,303

% Admitted

35.0%

33.0%

% Overall

33.7%
Aug 04 2014
History/Histories (art history/etc.)
Marist College tells you how to get in through their raise.me micro-scholarships program. For example, they give large micro-scholarships for community service.
Female
Aug 18 2013
Computer Science
Visit and get a tour go to admissions and talk to someone.
Male
Jul 28 2013
Business - Management and Administration
GPA and standardized test scores are obviously extremely important. However, Marist looks really hard for leadership in their perspective students. Marist is a popular school. Many of my friends say that they were the only ones accepted out of dozens that applied in high school. Extracurriculars definitely have a huge weigh on your application.
SAT: 2200 Female
May 02 2013
Unknown
I bombarded them all year with updates in my life; like if I won a photography contest or if I got awarded something. They saw that I did not just stop working and trying because I was a senior but I was still striving to get into this school.
SAT: 1500 Female
Nov 28 2012
Psychology
I did a lot of extra circulars. My SATs weren't that great but I don't think they take them super seriously. Look for leadership and volunteer opportunities. They can help you with whichever school you choose.
Female
Jul 02 2012
Other
To get into Marist, I simply applied and filled out all of the essay portions. For the Class of 2015, we were not required to submit any SAT or ACT scores. On the other hand, I would recommend for the students to provide strong recommendation letters and admission essays. In addition to this, the Admissions Department searches for a diverse and well rounded student populations, so be sure to be involved in many clubs and activities during your senior year in high school. And be sure to definitely keep your grades up! To be accepted into the fashion department, I had to submit a sequence of essays and an entry project that related to the elements and functions of the industry.
ACT: 21 SAT: 1470 Female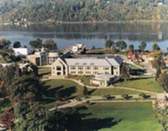 Similar Colleges by Education Quality