The University of Alabama
Your Chances at UAT
(on ACT score alone)
Your Chances at UAT
(on SAT score alone)
Men

Women

# Applicants

9,608

12,528

# Admitted

4,249

5,387

% Admitted

44.2%

43.0%

% Overall

43.5%
May 01 2013
Nutrition
Entrance was simple and straightforward
Female
Dec 14 2012
Other
Completed 45 units at my CC... GPA was 3.2... applied, paid the fee, and was accepted. Overall the process was pretty smooth and didn't seem too difficult. Looking forward to starting. Roll Tide baby!!!
Female
Jul 12 2012
Finance
I am from Florida, but I applied to Duke, Vanderbilt and Alabama. I was accepted into Duke and Alabama, but chose Alabama because the campus was so beautiful and the people were very freindly in Tuscaloosa. There is so much to do on campus in terms of libraries, simple recreational opportunities like biking and walking and lots of sports. Roll Tide!
ACT: 27 Female
Sep 12 2011
Math
Apply early. Bama has rolling admissions. Admissions criteria tightens as applications come in.
ACT: 33 SAT: 2280 Male
Aug 09 2011
History/Histories (art history/etc.)
The easiest way to get into UA is to enroll for AP credit while you are still in high school. Next you drop out of high school and simply take a full course load the follow semester and subsequent semesters until you graduate. Now you have BA/BS without even having a high school degree or SAT scores for that matter. I've seen it done at UA.
The other easy way is just to transfer in from Kinder College (Community College) or another University. You will get accepted if you have a C average and show some drive.

Male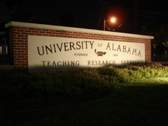 Similar Colleges by Education Quality