Virginia Polytechnic Institute and State University
Your Chances at VTU
(on SAT score alone)
Men

Women

# Applicants

12,359

8,469

# Admitted

7,884

5,976

% Admitted

63.8%

70.6%

% Overall

66.5%
Dec 29 2013
Mechanical Engineering
Solid gpa and test scores. Be involved in sports or clubs, show leadership
ACT: 29 Male
Nov 04 2013
Electrical Engineering
Do not make the mistake of applying in the first place.
The message needs to be sent that Hokies leave stupider than when they enter.
Male
Feb 16 2013
Psychology
Tech was my first choice because I wanted an friendly environment in the mountains, not because I expected a phenomenal education. Do pretty well in high school, and you'll get in.
SAT: 2050 Male
Jul 04 2011
Math
They dont care about anything but SAT score and GPA. I emailed the head of the department I was interested in and got a scholarship.
SAT: 1370 Male
Mar 27 2011
Other
If you have a somewhat decent GPA and test scores, you're in. They couldn't care less about the essays/extracurriculars.
Don't work too hard/get a lot of IB/AP credit. it is a waste of your time.

SAT: 2130 Female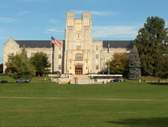 Similar Colleges by Education Quality