Breakdown of "Campus Maintenance" at SBU
By Major
| | |
| --- | --- |
| Animal Studies | B- |
| Anthropology | C- |
| Art & Design Department | A- |
| Biology | C |
| Business - Management and Administration | D+ |
| Chemical Engineering | C+ |
| Chemistry | C- |
| Civil Engineering | F |
| Computer Engineering | B- |
| Computer Science | B |
| Design Arts - Industrial Design/Graphic Design/etc | B+ |
| Economics | B |
| Education | C- |
| Electrical Engineering | C |
| Engineering Department | C |
| English | C- |
| Geography and Geosciences | B- |
| History/Histories (art history/etc.) | C |
| Linguistics | B- |
| Math | B- |
| Mechanical Engineering | C- |
| Neuroscience/Cognitive Science | C- |
| Nursing | A- |
| Other | C+ |
| Philosophy | F |
| Physics | D+ |
| Political Science | D+ |
| PreDent and Dentistry | B- |
| PreMed and Medical | C+ |
| Psychology | D+ |
| Public Health | C+ |
| Sociology | B- |
| Undecided | B- |
| Zoology | D |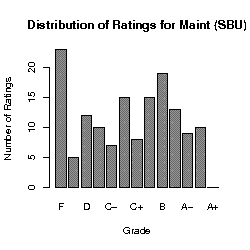 Against similar schools
Campus Maintenance compared with similar schools in class.
Campus Maintenance
"
... I was a psychology major at Southampton College and I was able to maintain a 3 ...
Read full comment
"
... classes for example fail close to %50 of the students in order to filter out the many drunken slackers and maintain an aura of respectability ...
Read full comment
"
... Add the complete lack of name-recognition outside of NY, awful food, very excessive number of international East and South-Asian students, shitty...
Read full comment