Miami University - Oxford
Breakdown of "Perceived Campus Safety" at MIAMIOH/Miami-Oxford
By Major
| | |
| --- | --- |
| Accounting | A- |
| Anthropology | A |
| Architecture | A- |
| Art & Design Department | A |
| Biology | A- |
| Business - Management and Administration | A- |
| Chemical Engineering | A |
| Communications | B+ |
| Computer Engineering | A |
| Computer Science | A- |
| Criminal | A+ |
| Economics | A |
| Education | A |
| Engineering Department | B+ |
| English | B- |
| Finance | A |
| Geography and Geosciences | A- |
| History/Histories (art history/etc.) | A- |
| Journalism | B+ |
| Language - French/Spanish/etc. | B |
| Math | A+ |
| Mechanical Engineering | A- |
| Other | B- |
| Political Science | A- |
| PreLaw and Legal | B+ |
| PreMed and Medical | B- |
| Psychology | A |
| Sociology | C+ |
| Undecided | A |
| Zoology | C- |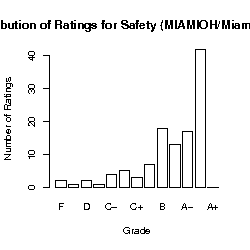 Against similar schools
Perceived Campus Safety compared with similar schools in class.
Perceived Campus Safety
"
... But if you're looking for a beautiful, safe campus, a strong greek system, good professors (mostly), great athletic facilities not just for vars...
Read full comment
"
... Parents send their daughters to Oxford because it looks so safe ...
Read full comment
"
... The campus is beautiful, safer than most (to the point that students forget that they do not live in a bubble), and the professors are top-notch ...
Read full comment
"
... For example, the first semester I was here a student was openly racist on social media (something that happens more than the University thinks) r...
Read full comment
"
... They would lead you to believe that the campus is so safe, crime runs rampant on that campus and the police have done a poor job in solving any c...
Read full comment