Breakdown of "Surrounding City" at Oberlin
By Major
| | |
| --- | --- |
| Anthropology | B- |
| Archaeology | F |
| Art & Design Department | D |
| Biology | B- |
| Chemistry | C- |
| Computer Science | F |
| Economics | D |
| English | C+ |
| Fine Arts - Painting/Sculpture/Photography/etc | D |
| Genetics | F |
| History/Histories (art history/etc.) | B- |
| Math | B |
| Music - Performance | B |
| Natural Resources | C |
| Neuroscience/Cognitive Science | C |
| Other | D+ |
| Perfomance Arts | B |
| Physics | C- |
| Political Science | C- |
| PreMed and Medical | C+ |
| Psychology | B- |
| Religion/Religious | A |
| Undecided | B- |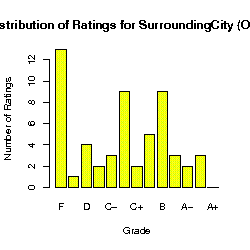 Against similar schools
Surrounding City compared with similar schools in class.
Surrounding City
"
... Granted I wasn't at Oberlin long, but for a young woman like myself (I'd taken a year off after high school, traveled, and worked in a large cit...
Read full comment
"
... I would look into somewhere with more interesting cities accessible (Cleveland is NOT a city) and a more exciting social scene ...
Read full comment
"
... I come from a large city (Los Angeles, California), and I wanted part of my college experience to include adjusting to a life completely away fr...
Read full comment
"
Don't let the setting discourage you. This is not the Ohio you think it is. Ultimately I did more socially and extracurricularly than friends in cit...
Read full comment