Breakdown of "Social Life" at UAkron
By Major
| | |
| --- | --- |
| Accounting | B |
| Aerospace Engineering | B |
| Anthropology | B+ |
| Art & Design Department | A- |
| Athletics/Training | B |
| Biology | A- |
| Business - Management and Administration | B+ |
| Chemical Engineering | A |
| Chemistry | B- |
| Communications | B- |
| Computer Engineering | B |
| Computer Science | C+ |
| Criminal | B- |
| Economics | C |
| Education | D- |
| Electrical Engineering | B |
| English | B+ |
| Finance | B |
| Fine Arts - Painting/Sculpture/Photography/etc | C |
| Geography and Geosciences | D+ |
| History/Histories (art history/etc.) | A+ |
| Journalism | B |
| Mechanical Engineering | C |
| Music - Performance | A- |
| Music Education | B |
| Nursing | C+ |
| Other | B- |
| Philosophy | F |
| Political Science | B- |
| Psychology | D |
| Public Health | B+ |
| School of Information | C- |
| Social Work | D- |
| Undecided | D- |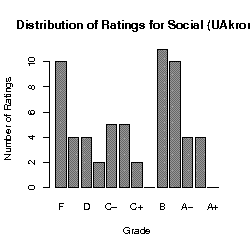 Against similar schools
Social Life compared with similar schools in class.
Social Life
"
... I'm just saying that if your top goal in attending college is to be a part of a social club, UA isn't the school for you ...
Read full comment
"
... The College of Education leaves much to be desired, but the courses I took to fulfil my social studies requirements were amazing ...
Read full comment
"
... A lot of mandatory orientation and online focuses more on being safe during parties and social events, which honestly any person should know by t...
Read full comment
"
... I had to study but also wanted to do well in sports and have a social life ...
Read full comment