Breakdown of "Collaboration/Competitive" at WSU
By Major
| | |
| --- | --- |
| Accounting | C+ |
| Anthropology | A+ |
| Athletics/Training | C |
| Biology | D+ |
| Business - Management and Administration | B- |
| Civil Engineering | B+ |
| Communications | C+ |
| Computer Engineering | B+ |
| Computer Science | B |
| Criminal | B- |
| Economics | C |
| Education | B- |
| Electrical Engineering | B- |
| Engineering Department | D+ |
| English | B |
| Fine Arts - Painting/Sculpture/Photography/etc | F |
| Geography and Geosciences | A- |
| History/Histories (art history/etc.) | B- |
| Math | C |
| Mechanical Engineering | B |
| Music - Performance | C |
| Music Education | B |
| Neuroscience/Cognitive Science | C |
| Nursing | A- |
| Other | F |
| Perfomance Arts | B |
| Political Science | B- |
| Psychology | D+ |
| School of Information | F |
| Social Work | B |
| Sociology | A |
| Undecided | D+ |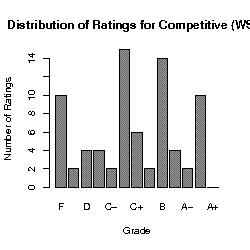 Against similar schools
Collaboration/Competitive compared with similar schools in class.
Collaboration/Competitive
"
I love Wright State and am so happy I decided to go there. Graduated in 4 years and had a great experience. I miss it :( WSU is diverse and accep...
Read full comment
"
In fall 2007 I decided to continue my education 10yrs after initially completing my degree. An appointment was made at Student Services in order to sm...
Read full comment
"
WSU is located in Fairborn, which is a small town about 20 minute drive to downtown Dayton. Dayton is not even like a big city or anything, and most p...
Read full comment
"
I am from Ohio and so is most of Wright State. There are some out of staters and a decent population of international students. The best part of this ...
Read full comment
"
Let's start with a few positives: nice campus, good city, basketball arena nice, and good food choices. That's it though. There is no nightlife, most ...
Read full comment