Carnegie Mellon University
Breakdown of "Collaboration/Competitive" at CMU
By Major
| | |
| --- | --- |
| Animal Studies | B+ |
| Architecture | B- |
| Architecture & Urban Planning Department | C- |
| Art & Design Department | A- |
| Biology | B+ |
| Business - Management and Administration | B+ |
| Chemical Engineering | A |
| Chemistry | B- |
| Civil Engineering | B+ |
| Computer Engineering | B+ |
| Computer Science | B- |
| Design Arts - Industrial Design/Graphic Design/etc | B+ |
| Economics | A- |
| Electrical Engineering | B+ |
| Engineering Department | B+ |
| English | B+ |
| Finance | D+ |
| Fine Arts - Painting/Sculpture/Photography/etc | A+ |
| Language - French/Spanish/etc. | B+ |
| Math | B |
| Mechanical Engineering | B- |
| Other | B |
| Perfomance Arts | A- |
| Physics | B+ |
| PreMed and Medical | A- |
| Psychology | B |
| Public Policy | B- |
| School of Information | A- |
| Undecided | A+ |
| Urban Planning | F |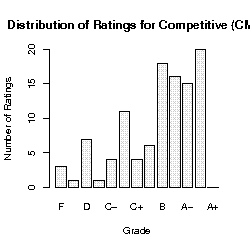 Against similar schools
Collaboration/Competitive compared with similar schools in class.
Collaboration/Competitive
"
... There may be competition between students, but you're all suffering through the same sort of self-inflicted, sleep-deprived torture, and it bring...
Read full comment
"
... You need to see how you stack up against the competition, and you need to experience the hellish process of auditioning ASAP ...
Read full comment
"
... Activities such as Carnival and Buggy are touted as the coolest thing since sliced bread by the university, when really they are just ridiculous...
Read full comment
"
... Students here generally stick together - there's a fair bit of competition but if you're ever stuck someone will always try to help you out ...
Read full comment