The Edinboro University of Pennsylvania
Breakdown of "Collaboration/Competitive" at EUP
By Major
| | |
| --- | --- |
| Art & Design Department | A- |
| Biology | B- |
| Business - Management and Administration | C+ |
| Computer Science | B+ |
| Criminal | D- |
| Education | B- |
| English | B- |
| Journalism | D- |
| Nursing | D+ |
| Other | C+ |
| Political Science | C |
| PreLaw and Legal | A |
| PreVet and Veterinary | F |
| Psychology | C+ |
| Public Policy | C |
| Social Work | B |
| Undecided | A- |
| Video/Media | D+ |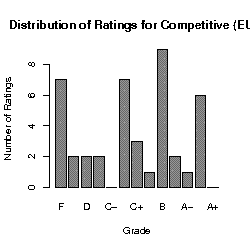 Against similar schools
Collaboration/Competitive compared with similar schools in class.
Collaboration/Competitive
"
EUP is located in a small area but Erie is just a short drive away or if you want big city fun Pittsburgh / Cleveland / Buffalo are all within a 2 hou...
Read full comment
"
As with every institution, your enjoyment of EUP is dependent on what you desire from your education. Despite the overwhelmingly negative reviews here...
Read full comment
"
I am getting out of Edinboro as fast as I can-this spring. I got accepted to a school (that was difficult to get into) that has a great reputation for...
Read full comment
"
I came to Edinboro b/c of the cheap tuition and the snow! People who complain that it snows all the time did not pay attention in orientation, as I'm ...
Read full comment
"
I love Edinboro, it's a great school to attend. SCHOOL: - Decent sized town - Good education - Greek Life is awesome - Highlands (dorms) are re...
Read full comment
"
I have been to three different colleges in my college career and I can honestly say that I love Edinboro. The faculty is very friendly and very eager...
Read full comment