The Pennsylvania College of Technology
Breakdown of "Extracurricular Activities" at PCT/PT
By Major
| | |
| --- | --- |
| Automotive Engineering | C- |
| Business - Management and Administration | D+ |
| Civil Engineering | F |
| Computer Science | C |
| Education | C |
| Electrical Engineering | B+ |
| Engineering Department | F |
| Nursing | B- |
| Other | C- |
| PreDent and Dentistry | A |
| PreMed and Medical | C |
| School of Information | D- |
| Social Work | A+ |
| Undecided | F |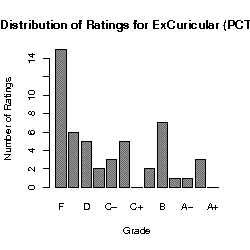 Against similar schools
Extracurricular Activities compared with similar schools in class.
Pennsylvania College of Technology
C-
Average of All Schools
B-
Extracurricular Activities
"
... When I visited PCT, I was dazzled by their nice looking campus, their helpful tour guides and apparent abundance of student life/activities .....
Read full comment
"
... the school does have activities to go to on occasion but they are all boring things nobody attends ...
Read full comment
"
... i get stares from people, i have few friends and the people here dont participate in the activities here ...
Read full comment
"
... No Greek life, sports, clubs, things to do, no girl oh and did I mention NO females ...
Read full comment
"
... The level of interaction in the classes is minimal at best, I have no drive or desire to be active in the useless class activities that will hav...
Read full comment
Recently Reviewed Colleges!