The Pennsylvania College of Technology
Breakdown of "Social Life" at PCT/PT
By Major
| | |
| --- | --- |
| Automotive Engineering | F |
| Business - Management and Administration | D |
| Civil Engineering | D |
| Computer Science | D+ |
| Education | F |
| Electrical Engineering | B+ |
| Engineering Department | F |
| Nursing | C+ |
| Other | D+ |
| PreDent and Dentistry | B |
| PreMed and Medical | C |
| School of Information | D- |
| Social Work | A+ |
| Undecided | F |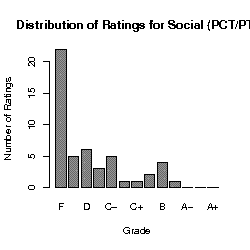 Against similar schools
Social Life compared with similar schools in class.
Pennsylvania College of Technology
D+
Average of All Schools
C+
Social Life
"
... I did live off campus and did not eat the meals on campus but I have enjoyed my time there after getting my social life and partying done before ...
Read full comment
"
... In short i hate penn college , i'm mean go here if you like sitting on the computer or looking at people's away messages because the social aspect...
Read full comment
"
... I spent two semesters at this college and was driven away by the weak social scene ...
Read full comment
"
... Many students who only comment on their social experience, how many friends they make or how the food is , are not going to college for an educat...
Read full comment
"
... trust me ive went to a big college before and i had friends there too becuz I chose to be social and meet others if all you do is complain and GO ...
Read full comment
Recently Reviewed Colleges!