Pennsylvania State University
Breakdown of "Campus Maintenance" at Penn State/PSU
By Major
| | |
| --- | --- |
| Accounting | B |
| Aerospace Engineering | A |
| Agriculture/Horticulture | B+ |
| Animal Studies | A |
| Architecture | A |
| Athletics/Training | D+ |
| Biology | B |
| Business - Management and Administration | A- |
| Chemical Engineering | A- |
| Chemistry | B+ |
| Civil Engineering | B+ |
| Communications | A- |
| Computer Engineering | A- |
| Computer Science | A- |
| Criminal | A+ |
| Economics | A |
| Education | A- |
| Electrical Engineering | A |
| Engineering Department | B+ |
| English | A- |
| Finance | A |
| Fine Arts - Painting/Sculpture/Photography/etc | B |
| Geography and Geosciences | A- |
| History/Histories (art history/etc.) | C+ |
| Journalism | A |
| Kinesiology | A- |
| Math | A- |
| Mechanical Engineering | A- |
| Meteorology | B+ |
| Music - Performance | A |
| Natural Resources | A |
| Nursing | C+ |
| Nutrition | A |
| Other | A- |
| Philosophy | C |
| Physics | D |
| Political Science | B |
| PreMed and Medical | C+ |
| Psychology | B+ |
| Public Health | B |
| School of Information | A- |
| Undecided | B+ |
| Video/Media | A- |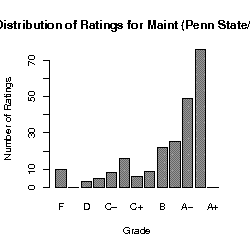 Against similar schools
Campus Maintenance compared with similar schools in class.
Campus Maintenance
"
... The classes are hard but it is possible to manage a very vibrant social life and maintain good grades and be involved on campus ...
Read full comment
"
... I had to maintain a higher GPA at PSU to remain in the SHC than any of my friends in their honors programs at other universities ...
Read full comment
"
... I'm a freshman and I've worked hard to maintain a good gpa, so this year wasn't the most exciting in terms of having fun and partying, but I'm gl...
Read full comment
"
... They waste energy with inefficient heating/cooling systems, on their maintenance people (OPP); it's the sort of little things you see everyday th...
Read full comment