Pennsylvania State University
Breakdown of "Useful Schoolwork" at Penn State/PSU
By Major
| | |
| --- | --- |
| Accounting | D+ |
| Aerospace Engineering | A- |
| Agriculture/Horticulture | C |
| Animal Studies | A+ |
| Architecture | A- |
| Athletics/Training | C |
| Biology | B- |
| Business - Management and Administration | B |
| Chemical Engineering | B |
| Chemistry | B- |
| Civil Engineering | C+ |
| Communications | B |
| Computer Engineering | B |
| Computer Science | B- |
| Criminal | A |
| Economics | B |
| Education | B |
| Electrical Engineering | B+ |
| Engineering Department | B |
| English | B- |
| Finance | A |
| Fine Arts - Painting/Sculpture/Photography/etc | C+ |
| Geography and Geosciences | B+ |
| History/Histories (art history/etc.) | B- |
| Journalism | F |
| Kinesiology | A- |
| Math | C |
| Mechanical Engineering | B+ |
| Meteorology | A |
| Music - Performance | A |
| Natural Resources | A+ |
| Nursing | C- |
| Nutrition | C |
| Other | B- |
| Philosophy | C |
| Physics | F |
| Political Science | A- |
| PreMed and Medical | C |
| Psychology | B |
| Public Health | B+ |
| School of Information | C+ |
| Undecided | C- |
| Video/Media | B- |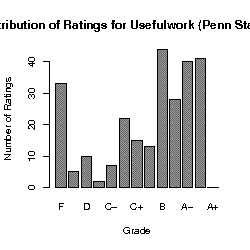 Against similar schools
Useful Schoolwork compared with similar schools in class.
Useful Schoolwork
"
... In my experience, the Gen Eds are, overall, pretty easy and mostly busywork ...
Read full comment
"
... Luckily, my mind was kept fairly busy with a part-time job and schoolwork ...
Read full comment
"
... If you would rather have meaningful student-professor interaction that could benefit you in your schoolwork, Penn State is definitely not a schoo...
Read full comment