Roger Williams University
Breakdown of "Scholastic Success" at RWU
By Major
| | |
| --- | --- |
| Accounting | B |
| Architecture | B- |
| Art & Design Department | A |
| Biology | B |
| Business - Management and Administration | B- |
| Chemistry | A- |
| Civil Engineering | C+ |
| Communications | B+ |
| Computer Science | A- |
| Criminal | C |
| Design Arts - Industrial Design/Graphic Design/etc | B+ |
| Economics | A |
| Education | B+ |
| Engineering Department | B+ |
| English | A |
| Finance | A |
| Fine Arts - Painting/Sculpture/Photography/etc | B |
| History/Histories (art history/etc.) | A- |
| Math | B+ |
| Other | B+ |
| Perfomance Arts | A- |
| Philosophy | A |
| Political Science | A |
| Psychology | B- |
| Public Health | D+ |
| Undecided | F |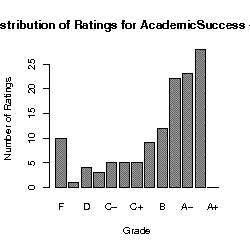 Against similar schools
Scholastic Success compared with similar schools in class.
Scholastic Success
"
... Work hard and do not let grades slip because handing out an impressive transcript at a job interview definitly helps ...
Read full comment
"
... Or you can sit in your room all day everyday alone, get alright grades and blame everyone but yourself for your horrible college experience ...
Read full comment
"
... tenured professors can ignore you and assign seemingly random grades, enjoy their yacht's and vacations on your stupidity ...
Read full comment
"
... I spent four miserable years at this school, studied my ass off to earn decent grades, and still haven't received even an interview, much less an...
Read full comment
"
... Keeping your grades up while creating your transfer application is a lot of work ...
Read full comment
"
... The things they teach is mostly useless, and I see the same thing happen over and over -- people stop doing the pointless work, start making bad ...
Read full comment