Roger Williams University
Breakdown of "Collaboration/Competitive" at RWU
By Major
| | |
| --- | --- |
| Accounting | C |
| Architecture | B |
| Art & Design Department | A- |
| Biology | B- |
| Business - Management and Administration | B |
| Chemistry | B |
| Civil Engineering | B+ |
| Communications | B+ |
| Computer Science | C+ |
| Criminal | B- |
| Design Arts - Industrial Design/Graphic Design/etc | C |
| Economics | B+ |
| Education | B+ |
| Engineering Department | B+ |
| English | A- |
| Finance | A- |
| Fine Arts - Painting/Sculpture/Photography/etc | B |
| History/Histories (art history/etc.) | A- |
| Math | F |
| Other | B+ |
| Perfomance Arts | A- |
| Philosophy | B+ |
| Political Science | A- |
| Psychology | B- |
| Public Health | C- |
| Undecided | D |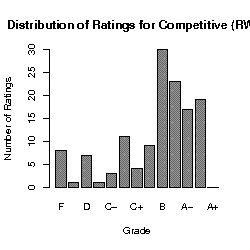 Against similar schools
Collaboration/Competitive compared with similar schools in class.
Collaboration/Competitive
"
Roger Williams has been an amazing experience for me so far. I am only a second semester freshman, so I'm still learning as I go. There are things t...
Read full comment
"
Honestly, I hated the school when I first got here, but I gave it a chance and it really paid off. It's out of the way enough so you are not right in ...
Read full comment
"
Roger Williams is the best choice I could have made. The campus is gorgeous, the dorms are nice,and the students are so much fun. Not to mention the a...
Read full comment
"
I came into this school as all other students came into this school, with a sense of optimism... that it may be a small school, but atleast I'm going ...
Read full comment
"
RWU is a good small school, depending on your major the University is either great or just okay. Although most students are from loaded families most ...
Read full comment
"
I have given this school and the people here many chances. However, I have decided to transfer. People here are very cliquey, extremely close- minded ...
Read full comment
"
While a senior at RWU, I became a police officer, which is specifically why I wanted to go there, and have been now for the past 3 years. In fact, mo...
Read full comment
"
when I first started looking for schools I had no idea what I was getting into. RWU is not as it seems to advertise, which is a given at any school. ...
Read full comment