Breakdown of "Collaboration/Competitive" at SRU
By Major
| | |
| --- | --- |
| Accounting | C |
| Anthropology | A |
| Archaeology | B- |
| Art & Design Department | B |
| Biology | A- |
| Business - Management and Administration | B- |
| Chemistry | D+ |
| Communications | A- |
| Computer Science | D |
| Criminal | B- |
| Economics | F |
| Education | B- |
| English | A- |
| Finance | B+ |
| History/Histories (art history/etc.) | A- |
| Journalism | B |
| Nursing | C+ |
| Other | B |
| Political Science | A- |
| PreMed and Medical | A |
| Psychology | B |
| Religion/Religious | F |
| School of Information | B+ |
| Social Work | A |
| Sociology | B |
| Undecided | B- |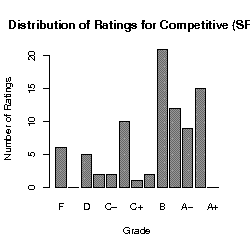 Against similar schools
Collaboration/Competitive compared with similar schools in class.
Collaboration/Competitive
"
Salve is a very unique campus. The location is gorgeous and the city of Newport loves the students. The University tries its very hardest to supply...
Read full comment
"
This school was the school of my dreams, however, I only could research so much before coming here. Now that I am here my eyes have been opened to man...
Read full comment
"
I went to Salve Regina in the year of 2009-2010 as a Freshman and is now transferring. Salve is an interesting school because it is a school that y...
Read full comment
"
Salve has a gorgeous campus and it is very safe day and night. It gets cold and windy in the winter and it doesn't snow that much. Most if not all o...
Read full comment
"
I just recently graduated and the past four years at Salve were indescribable. The enviroment at Salve fosters to every one of their students. The set...
Read full comment
"
I come from a big city of 923,000 people with a lot of diversity and opportunities and my first year here I felt like I was being suffocated by such a...
Read full comment
"
It's very interesting to see some of the negative comments about Salve. Here's the thing, first off: Salve is a New England medium-small Catholic ...
Read full comment