Coastal Carolina University
Breakdown of "Collaboration/Competitive" at CCU
By Major
| | |
| --- | --- |
| Accounting | C+ |
| Art & Design Department | A- |
| Biology | C |
| Business - Management and Administration | C+ |
| Chemistry | D+ |
| Communications | B |
| Computer Science | C |
| Economics | F |
| Education | B- |
| English | B- |
| Finance | B+ |
| Geography and Geosciences | B+ |
| History/Histories (art history/etc.) | C+ |
| Kinesiology | B- |
| Music - Performance | B |
| Other | B |
| Physical Therapy/Exercise Science | B+ |
| Political Science | C |
| PreMed and Medical | B- |
| Psychology | B- |
| Undecided | C |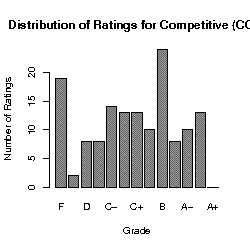 Against similar schools
Collaboration/Competitive compared with similar schools in class.
Collaboration/Competitive
"
I have transfered to CCU from FMU as well. There are many students at CCU who came from FMU. There is a huge difference between FMU and CCU: 1. FMU...
Read full comment
"
CCU is a good university. It has given me unheard opportunities especially in my major. However, I might be that one in a thousand. I'm on my way t...
Read full comment
"
My experience at CCU was one I will never forget. I transferred to CCU & In all honest strongly feel I made the right choice. As someone who transferr...
Read full comment
"
Let me start off by saying that I AM transferring to a different school next year. However, I am going to try to make this as unbiased a possible beca...
Read full comment
"
I have been a student of Coastal for 2 years now i have mixed feelings about the school and would like to try to break them down in an honest un-baise...
Read full comment
"
I went to CCU for my freshmen year of college to get away from Upstate New York.I went there too because of baseball. People are nice especially th...
Read full comment
"
Before you start judging Coastal Carolina based off of reviews, you should really go visit and experience the school for yourself. I didn't even have ...
Read full comment
"
I attended Coastal for 1 year. i honestly did not enjoy my time there as were the students very closeminded, the faculty unhelpful and the city dirty ...
Read full comment
"
I was a 3.4GPA student and a 1800SAT (3 parts) at a competitive private high school in a suburb-city in Jersey. Coastal was NOT a challenge and I fini...
Read full comment