California State Polytechnic University - Pomona
Breakdown of "Extracurricular Activities" at CSU/CSPU-Pomona
By Major
| | |
| --- | --- |
| Accounting | B- |
| Aerospace Engineering | B |
| Agriculture/Horticulture | C+ |
| Animal Studies | B |
| Anthropology | B+ |
| Architecture | A- |
| Architecture & Urban Planning Department | A |
| Art & Design Department | F |
| Biology | C+ |
| Business - Management and Administration | B- |
| Chemical Engineering | A |
| Civil Engineering | A- |
| Communications | C- |
| Computer Engineering | A- |
| Computer Science | D+ |
| Cultures/Civilization | B- |
| Economics | F |
| Electrical Engineering | B+ |
| Engineering Department | F |
| English | D |
| Finance | B |
| Fine Arts - Painting/Sculpture/Photography/etc | C- |
| Geography and Geosciences | D+ |
| Kinesiology | D- |
| Math | A- |
| Mechanical Engineering | B |
| Other | B+ |
| Philosophy | C+ |
| Political Science | B+ |
| Psychology | B- |
| Sociology | C+ |
| Undecided | C |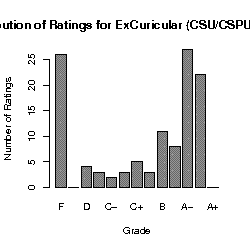 Against similar schools
Extracurricular Activities compared with similar schools in class.
Extracurricular Activities
"
... For the next 2 years, I recruited and managed sales trainees and developed and launched local sales promotion activities in Southern California a...
Read full comment
"
... it's the only state university that offers a full range of entertainment courses that focus on movies, music, and things other than sports ...
Read full comment
"
... Apathetic students+Unavailable Faculty+Horrible Facilities+Zero Campus Activities+Cancelled/Overenrolled Classes=Junior College Posing as a Univer...
Read full comment
"
... The sports facilties and teams stink, and the local town is a haven for gangs, drugs, and crime ...
Read full comment
"
... campus facilities are marginal at best, particularly for sports ...
Read full comment