California State Polytechnic University - Pomona
Breakdown of "Surrounding City" at CSU/CSPU-Pomona
By Major
| | |
| --- | --- |
| Accounting | B- |
| Aerospace Engineering | B |
| Agriculture/Horticulture | B- |
| Animal Studies | B |
| Anthropology | C- |
| Architecture | B- |
| Architecture & Urban Planning Department | A- |
| Art & Design Department | D |
| Biology | C+ |
| Business - Management and Administration | C+ |
| Chemical Engineering | A- |
| Civil Engineering | B |
| Communications | D+ |
| Computer Engineering | A- |
| Computer Science | D |
| Cultures/Civilization | D+ |
| Economics | F |
| Electrical Engineering | B+ |
| Engineering Department | F |
| English | F |
| Finance | B |
| Fine Arts - Painting/Sculpture/Photography/etc | F |
| Geography and Geosciences | F |
| Kinesiology | F |
| Math | B- |
| Mechanical Engineering | C+ |
| Other | B- |
| Philosophy | C+ |
| Political Science | C |
| Psychology | C- |
| Sociology | C+ |
| Undecided | C- |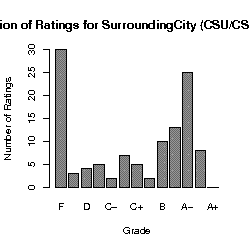 Against similar schools
Surrounding City compared with similar schools in class.
Surrounding City
"
... And you do real world projects in the nation's second largest city that will get you cutting edge jobs ...
Read full comment
"
... This is good because the surrounding city is pretty poor as far as activity is concerned ...
Read full comment
"
... The best thing about the place is its closeness to LA with all of the big city stuff such as internships and entertainment ...
Read full comment
"
... Luckily, I was able to find a job with the City of Tacoma Water Department in the Water Supply group where I am now very happy ...
Read full comment