Middle Tennessee State University
Breakdown of "Collaboration/Competitive" at MTSU
By Major
| | |
| --- | --- |
| Accounting | A- |
| Aerospace Engineering | A- |
| Agriculture/Horticulture | A- |
| Art & Design Department | C+ |
| Athletics/Training | A |
| Biology | B+ |
| Business - Management and Administration | C |
| Chemical Engineering | A- |
| Communications | C |
| Computer Engineering | C |
| Computer Science | B+ |
| Criminal | B |
| Economics | C- |
| Education | B- |
| Engineering Department | C |
| English | C+ |
| Finance | B |
| Geography and Geosciences | C |
| History/Histories (art history/etc.) | A- |
| Journalism | B- |
| Language - French/Spanish/etc. | B+ |
| Math | B |
| Music - Composition/Theory | B+ |
| Music - Performance | B |
| Music Education | C+ |
| Nursing | A- |
| Nutrition | A- |
| Other | B |
| Physical Therapy/Exercise Science | A- |
| Political Science | B |
| PreMed and Medical | B- |
| PreVet and Veterinary | B- |
| Psychology | B- |
| School of Information | B |
| Social Work | B- |
| Undecided | C |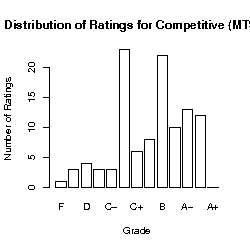 Against similar schools
Collaboration/Competitive compared with similar schools in class.
Collaboration/Competitive
"
MTSU is not a good school. It is overcrowded, poorly laid out, and is in the middle of a city in the midst of construction and roadway chaos. If you c...
Read full comment
"
... Competition amongst classmates should not be difficult for anyone who gives just a little effort ...
Read full comment
"
Nursing school was very difficult to get into and difficult to stay in. I believe the first and third semesters where weed out semesters and alot of p...
Read full comment
"
I made a comment here the very beginning of my second semester at MTSU. My overall outlook on the school as a whole has changed quite a bit, it certai...
Read full comment
"
If you ask me, MTSU certainly isn't a bad school. After attending the University of Tennessee at Knoxville for a semester, MTSU was quite a change. ...
Read full comment
"
This once good school has grown too fast. Compared to when I attended, there is way too much emphasis on trying to be an upper level football program ...
Read full comment
"
I'm here from out of state. I'm a transfer from a private school, one with a better reputation (if nothing else.) I came for the recording program, ...
Read full comment