Middle Tennessee State University
Breakdown of "Campus Maintenance" at MTSU
By Major
| | |
| --- | --- |
| Accounting | A- |
| Aerospace Engineering | B |
| Agriculture/Horticulture | A- |
| Art & Design Department | C+ |
| Athletics/Training | A |
| Biology | B+ |
| Business - Management and Administration | C- |
| Chemical Engineering | D- |
| Communications | B- |
| Computer Engineering | D+ |
| Computer Science | B- |
| Criminal | D+ |
| Economics | C- |
| Education | D- |
| Engineering Department | D |
| English | C- |
| Finance | B+ |
| Geography and Geosciences | F |
| History/Histories (art history/etc.) | A- |
| Journalism | C- |
| Language - French/Spanish/etc. | C- |
| Math | B |
| Music - Composition/Theory | B |
| Music - Performance | C- |
| Music Education | C |
| Nursing | B- |
| Nutrition | A- |
| Other | B- |
| Physical Therapy/Exercise Science | A+ |
| Political Science | B |
| PreMed and Medical | D- |
| PreVet and Veterinary | F |
| Psychology | C- |
| School of Information | D+ |
| Social Work | F |
| Undecided | C- |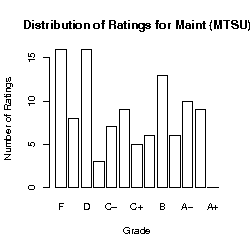 Against similar schools
Campus Maintenance compared with similar schools in class.
Campus Maintenance
"
... I find the facilities to be well maintained and the rec center is top-notch ...
Read full comment
"
... full-time studio maintenance shop, cutting-edge as well as rare and vintage equipment, chapters of AES, SMPTE, NARM, and other industry assoc ...
Read full comment
"
... The other side looks quite archaic, but the insides of the buildings are well maintained, and the many trees on campus make autumn an aesthetic ...
Read full comment
"
... The College of Business and the Accounting Department strive for meeting and maintaining accreditation and producing high quality students ...
Read full comment