Breakdown of "Collaboration/Competitive" at TSU
By Major
| | |
| --- | --- |
| Accounting | B- |
| Animal Studies | A+ |
| Art & Design Department | B |
| Athletics/Training | A+ |
| Biology | C |
| Business - Management and Administration | B |
| Chemistry | B |
| Communications | B |
| Computer Science | C- |
| Criminal | A- |
| Education | A- |
| Engineering Department | A |
| English | A |
| Finance | B+ |
| Geography and Geosciences | B+ |
| History/Histories (art history/etc.) | B+ |
| Journalism | B+ |
| Kinesiology | B- |
| Math | C+ |
| Mechanical Engineering | C- |
| Music - Performance | F |
| Nursing | B |
| Other | C+ |
| Pharmacy | B |
| Physical Therapy/Exercise Science | C- |
| Physics | A |
| Political Science | B- |
| PreMed and Medical | A- |
| Psychology | B- |
| Public Policy | B+ |
| Social Work | B+ |
| Sociology | B+ |
| Undecided | A- |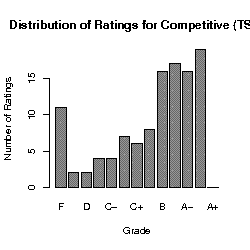 Against similar schools
Collaboration/Competitive compared with similar schools in class.
Collaboration/Competitive
"
... In my opinion though, the very worst part is that coming to college I believed in a challenge, in academic competition and creativity ...
Read full comment
"
TxState is, like the others have said, not challenging. At all. However, the culture here in San Marcos is a brilliant and burgeoning one - if you sta...
Read full comment
"
like every city i've been to, college students can be intentionally rude and assuming. students automatically think every student has no work experie...
Read full comment
"
This university completely exceeded my expectations. I was hesitant on coming here at first, especially because it wasn't my #1 choice. Texas State Un...
Read full comment
"
Reading these comments from people trashing the university, yet graduated 10 years ago, make me want to laugh. This school is undergoing a dramatic sh...
Read full comment
"
Please do not go to this university if you ever want to succeed in any capacity. You will never find success in any field (save education or criminal...
Read full comment
"
(cont.) By the way, I wouldn't bicycle to school here. I would rather bicycle in Austin or Houston. I lived in both those cities for two years each....
Read full comment
"
Texas State - San Marcos gave me my chance for a better life. I started back in the '80s when the admissions standards were first being seriously tig...
Read full comment