Texas A & M University - College Station
Breakdown of "Surrounding City" at Texas-A&M-College Station
By Major
| | |
| --- | --- |
| Accounting | A- |
| Aerospace Engineering | B |
| Agriculture/Horticulture | B+ |
| Animal Studies | C |
| Anthropology | B+ |
| Archaeology | F |
| Architecture | B+ |
| Architecture & Urban Planning Department | A+ |
| Automotive Engineering | B |
| Biology | C |
| Business - Management and Administration | B |
| Chemical Engineering | B- |
| Chemistry | D+ |
| Civil Engineering | B- |
| Communications | B- |
| Computer Engineering | B |
| Computer Science | B- |
| Criminal | F |
| Economics | C+ |
| Education | C |
| Electrical Engineering | C |
| Engineering Department | B |
| English | B |
| Finance | B- |
| Genetics | B+ |
| Geography and Geosciences | C |
| History/Histories (art history/etc.) | F |
| Industrial Operations Engineering | B+ |
| Journalism | B |
| Kinesiology | C |
| Linguistics | D+ |
| Math | A+ |
| Mechanical Engineering | B- |
| Meteorology | B- |
| Nuclear Engineering | C- |
| Nutrition | A |
| Other | B |
| Physics | B |
| Political Science | B- |
| PreDent and Dentistry | B |
| PreLaw and Legal | F |
| PreMed and Medical | B- |
| PreVet and Veterinary | A- |
| Psychology | B- |
| Public Health | B |
| Radiological Sciences | B |
| Religion/Religious | F |
| School of Information | C- |
| Social Work | A- |
| Sociology | B- |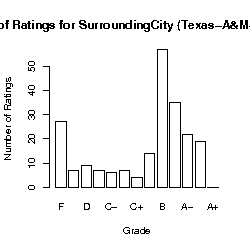 Against similar schools
Surrounding City compared with similar schools in class.
Surrounding City
"
I graduated in 2002, after four years at A&M. I love Texas A&M because this college has very high standards when it comes to the coursework and profe...
Read full comment
"
I attended Texas A&M for two years before transferring to a liberal arts college to finish my BS. Texas A&M is a great place if you place high value ...
Read full comment