The University of Texas - Arlington
Breakdown of "Scholastic Success" at UTA/UTexas-Arlington
By Major
| | |
| --- | --- |
| Anthropology | C |
| Architecture | C+ |
| Art & Design Department | D |
| Biology | B- |
| Business - Management and Administration | B- |
| Chemistry | C |
| Civil Engineering | F |
| Communications | D- |
| Computer Engineering | B- |
| Computer Science | C+ |
| Criminal | B- |
| Economics | B+ |
| Education | A |
| Electrical Engineering | B- |
| Engineering Department | A- |
| Finance | A- |
| Geography and Geosciences | C+ |
| History/Histories (art history/etc.) | D |
| Kinesiology | A+ |
| Language - French/Spanish/etc. | A- |
| Mechanical Engineering | A- |
| Nursing | C+ |
| Other | A+ |
| Philosophy | B- |
| Political Science | A+ |
| Psychology | D |
| Social Work | D+ |
| Undecided | C- |
| Video/Media | B |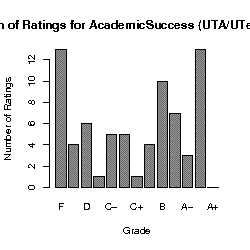 Against similar schools
Scholastic Success compared with similar schools in class.
Scholastic Success
"
... The advisors for science do not care if you want to learn, they equate learning with perfect grades, and if you are struggling for whatever reaso...
Read full comment
"
... He is known as the toughest teacher on grades because he expects you to learn this, to perfection, even with his misleading comments and incorrec...
Read full comment
"
... I found the campus somewhat depressing, as many students transfered to uta because their grades fell ...
Read full comment
"
... In the Geology department TA's were often fellow undergraduates who played favorites and grades were decided on friendships or who slept with who...
Read full comment
"
... Obviously I cannot speak for every department, but the anthropology faculty and staff at UTA are phenominal; friendly, approachable, willing t...
Read full comment
"
... At one point I thought if I could ignore this sherade then I could just mind my own business, produce decent projects, and get decent grades, and...
Read full comment