The University of Texas - Arlington
Breakdown of "Extracurricular Activities" at UTA/UTexas-Arlington
By Major
| | |
| --- | --- |
| Anthropology | C- |
| Architecture | D |
| Art & Design Department | A- |
| Biology | C- |
| Business - Management and Administration | C- |
| Chemistry | D |
| Civil Engineering | C |
| Communications | D |
| Computer Engineering | C |
| Computer Science | B- |
| Criminal | D |
| Economics | C |
| Education | A |
| Electrical Engineering | B+ |
| Engineering Department | C- |
| Finance | D |
| Geography and Geosciences | C |
| History/Histories (art history/etc.) | C- |
| Kinesiology | C+ |
| Language - French/Spanish/etc. | B- |
| Mechanical Engineering | B |
| Nursing | C |
| Other | B- |
| Philosophy | C- |
| Political Science | A |
| Psychology | D |
| Social Work | B- |
| Undecided | C- |
| Video/Media | C- |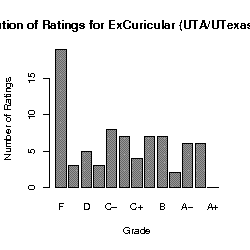 Against similar schools
Extracurricular Activities compared with similar schools in class.
Extracurricular Activities
"
... The average UTA Student is not motivated to be involved with School Activities, they rarely have participants though, bless them, they do there b...
Read full comment
"
... INSTEAD OF SPENDING MONEY ON SPORTS, THE SCHOOL SPENDS MONEY ON ACADEMICS AND RESEARCH ...
Read full comment
"
... There isn't tons and tons and tons of extracurricular activities or social events, but if you look for them THEY ARE THERE ...
Read full comment
"
... The campus is nice but there's not very many daily on campus social activities because so many people commute, which makes it harder to adjust a...
Read full comment
"
... Unfortunately, due to lack of mid-semester activities, being Greek may be the only feasible way to stay awake past week three in the fall semest...
Read full comment