The University of Texas - Arlington
Breakdown of "Friendliness" at UTA/UTexas-Arlington
By Major
| | |
| --- | --- |
| Anthropology | C+ |
| Architecture | C |
| Art & Design Department | B+ |
| Biology | C |
| Business - Management and Administration | C+ |
| Chemistry | A- |
| Civil Engineering | F |
| Communications | C- |
| Computer Engineering | A- |
| Computer Science | D+ |
| Criminal | A- |
| Economics | B- |
| Education | B |
| Electrical Engineering | A- |
| Engineering Department | B+ |
| Finance | D- |
| Geography and Geosciences | B+ |
| History/Histories (art history/etc.) | B- |
| Kinesiology | A+ |
| Language - French/Spanish/etc. | A- |
| Mechanical Engineering | B- |
| Nursing | C |
| Other | A- |
| Philosophy | B- |
| Political Science | A- |
| Psychology | D |
| Social Work | D |
| Undecided | C- |
| Video/Media | B |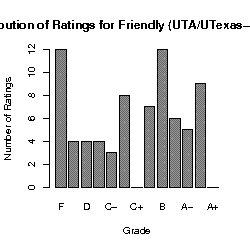 Against similar schools
Friendliness compared with similar schools in class.
Friendliness
"
... Obviously I cannot speak for every department, but the anthropology faculty and staff at UTA are phenominal; friendly, approachable, willing t...
Read full comment
"
... Not the most exciting or pedestrian-friendly city, but it will do for the cost and educational value ...
Read full comment
"
... The students are typically very unfriendly, and you'll quickly mimic their behavior if you spend enough time here ...
Read full comment
"
... I cannot speak for any of the other departments, but in my department (Geoscience) EVERYONE is helpful, friendly, and wants to see you succeed ...
Read full comment