Breakdown of "Campus Maintenance" at Liberty
By Major
| | |
| --- | --- |
| Accounting | B- |
| Aerospace Engineering | A- |
| Art & Design Department | C- |
| Biology | B+ |
| Business - Management and Administration | B |
| Communications | B+ |
| Computer Engineering | C |
| Computer Science | A- |
| Criminal | B+ |
| Design Arts - Industrial Design/Graphic Design/etc | A- |
| Economics | D+ |
| Education | B- |
| Electrical Engineering | A |
| English | A- |
| Finance | B+ |
| Fine Arts - Painting/Sculpture/Photography/etc | D+ |
| History/Histories (art history/etc.) | B- |
| Journalism | B |
| Kinesiology | B- |
| Math | A- |
| Music - Composition/Theory | B+ |
| Music - Performance | B |
| Music Education | B |
| Nursing | A- |
| Other | C+ |
| Perfomance Arts | A |
| Political Science | A- |
| PreDent and Dentistry | A |
| PreLaw and Legal | A- |
| PreMed and Medical | A+ |
| Psychology | B+ |
| Public Health | A- |
| Religion/Religious | B- |
| Undecided | B |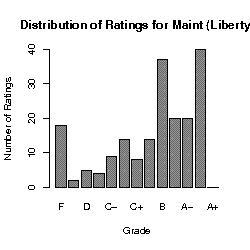 Against similar schools
Campus Maintenance compared with similar schools in class.
Campus Maintenance
"
... The school however maintains a very conservative spritual belief and are quite outspoken about it ...
Read full comment
"
... the facilities are very modern and well maintained and recently snowflex opened which i personally think is pretty cool ...
Read full comment
"
... They lack integrity and will sacrifice doing what is right just to maintain the charade of Christian excellence ...
Read full comment
"
... Secondly, the fact that liberty literally expects you to maintain their dorms for them via strict cleanliness checks when they don ...
Read full comment