Breakdown of "Extracurricular Activities" at Middlebury
By Major
| | |
| --- | --- |
| Anthropology | B+ |
| Architecture | A+ |
| Biology | A+ |
| Chemistry | B- |
| Computer Science | A |
| Economics | A- |
| English | B |
| Fine Arts - Painting/Sculpture/Photography/etc | B |
| Geography and Geosciences | A- |
| History/Histories (art history/etc.) | A |
| Journalism | A |
| Language - French/Spanish/etc. | B- |
| Math | A- |
| Neuroscience/Cognitive Science | A- |
| Other | A |
| Political Science | A |
| Social Work | A |
| Sociology | C- |
| Undecided | A- |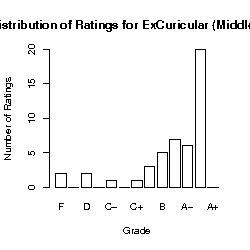 Against similar schools
Extracurricular Activities compared with similar schools in class.
Extracurricular Activities
"
... i think that especially for freshman some extracurricular time may suffer due to the workload but normally students enjoy ( ...
Read full comment
"
... However, the college does a great job of creating on and off campus activities, bringing entertainment and culture to the campus regularly, and t...
Read full comment
"
... Many students take advantage of the college's location and go hiking, skiing and other outdoor activities ...
Read full comment
"
... The administration and CCAL (Center for Campus Activities and leadership) are slowly suppressing the last vestiges of a once vibrant Middleb...
Read full comment
"
... There is always something fun to do on campus, and the student activities board is, indeed, highly active ...
Read full comment