Breakdown of "Extracurricular Activities" at Auburn
By Major
| | |
| --- | --- |
| Accounting | D |
| Aerospace Engineering | A |
| Agriculture/Horticulture | C+ |
| Animal Studies | C- |
| Architecture | A- |
| Architecture & Urban Planning Department | A+ |
| Art & Design Department | B- |
| Biology | D+ |
| Business - Management and Administration | B+ |
| Chemical Engineering | A |
| Chemistry | C- |
| Civil Engineering | A |
| Communications | B- |
| Computer Engineering | B+ |
| Computer Science | B- |
| Criminal | B |
| Design Arts - Industrial Design/Graphic Design/etc | C |
| Economics | A- |
| Education | B+ |
| Electrical Engineering | B+ |
| Engineering Department | B- |
| English | C |
| Finance | A |
| Geography and Geosciences | B |
| History/Histories (art history/etc.) | D+ |
| Industrial Operations Engineering | B |
| Interior Design | B |
| Journalism | B+ |
| Language - French/Spanish/etc. | C |
| Mechanical Engineering | B- |
| Nursing | F |
| Other | B |
| Pharmacy | A- |
| Political Science | B |
| PreDent and Dentistry | C+ |
| PreLaw and Legal | A- |
| PreMed and Medical | A |
| PreVet and Veterinary | A- |
| Psychology | A |
| Public Health | A |
| Undecided | B |
| Zoology | A |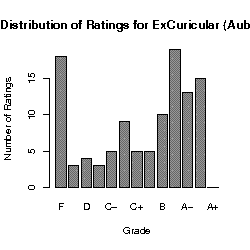 Against similar schools
Extracurricular Activities compared with similar schools in class.
Extracurricular Activities
"
... There are so many activities that can strengthen your character here, be it to become a better athlete, stronger christian, or make life long fri...
Read full comment
"
... Other sports don't get half the amount of attention football does unfortunately ...
Read full comment
"
... Football couldn't be better (13-0) and all the sports are pretty good but seriously, don't go to Auburn ...
Read full comment
"
... The town is small and does not have a lot of activities to do outside of campus except a park nearby and restaurants and cheap bars ...
Read full comment