Breakdown of "Surrounding City" at Auburn
By Major
| | |
| --- | --- |
| Accounting | C- |
| Aerospace Engineering | A |
| Agriculture/Horticulture | C- |
| Animal Studies | F |
| Architecture | B+ |
| Architecture & Urban Planning Department | A |
| Art & Design Department | B- |
| Biology | D+ |
| Business - Management and Administration | C+ |
| Chemical Engineering | C |
| Chemistry | C- |
| Civil Engineering | B |
| Communications | C |
| Computer Engineering | C+ |
| Computer Science | D+ |
| Criminal | B- |
| Design Arts - Industrial Design/Graphic Design/etc | C |
| Economics | B- |
| Education | C |
| Electrical Engineering | D+ |
| Engineering Department | C |
| English | F |
| Finance | B- |
| Geography and Geosciences | B+ |
| History/Histories (art history/etc.) | D+ |
| Industrial Operations Engineering | D+ |
| Interior Design | D- |
| Journalism | A- |
| Language - French/Spanish/etc. | F |
| Mechanical Engineering | C |
| Nursing | F |
| Other | B- |
| Pharmacy | B |
| Political Science | B |
| PreDent and Dentistry | C- |
| PreLaw and Legal | B+ |
| PreMed and Medical | A- |
| PreVet and Veterinary | B- |
| Psychology | C- |
| Public Health | B- |
| Undecided | B |
| Zoology | B+ |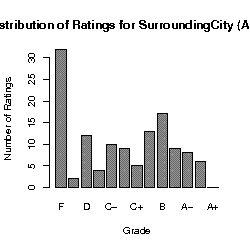 Against similar schools
Surrounding City compared with similar schools in class.
Surrounding City
"
... If you will take the time to visit Auburn, you will learn that the only "challenge" you have in fitting in here is that this is not a "bright li...
Read full comment
"
It seems to me that most of the problems people complain about on here aren't unique to Auburn, so the best way of summing up my experience here is: y...
Read full comment
"
... IF YOU ARE FROM UP NORTH OR FROM A LIBERAL CITY DO NOT COME HERE ...
Read full comment