San Jose State University
Breakdown of "Collaboration/Competitive" at SJSU
By Major
| | |
| --- | --- |
| Accounting | C+ |
| Anthropology | B+ |
| Architecture | A+ |
| Art & Design Department | C |
| Biology | C+ |
| Business - Management and Administration | C+ |
| Chemical Engineering | B+ |
| Communications | B |
| Computer Engineering | B |
| Computer Science | B+ |
| Criminal | B+ |
| Economics | B+ |
| Education | B |
| Electrical Engineering | C+ |
| Engineering Department | C |
| English | B |
| History/Histories (art history/etc.) | A- |
| Journalism | B |
| Linguistics | C |
| Math | B+ |
| Mechanical Engineering | A- |
| Music Education | A |
| Nursing | A |
| Perfomance Arts | C |
| Philosophy | A- |
| Political Science | C- |
| Psychology | C |
| Religion/Religious | C+ |
| Undecided | C+ |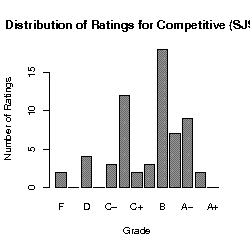 Against similar schools
Collaboration/Competitive compared with similar schools in class.
Collaboration/Competitive
"
It feels like a commuter school here. Averaging poor math "lecturers" and "part-timers" who also teach elsewhere to make ends meet. Computer science...
Read full comment
"
I AM WARNING YOU, DO NOT GO TO SJSU!!!!!!!!!!!! ok, so i am freshman at sjsu and could not be more excited to transfer this fall!!! this school has no...
Read full comment
"
... However, to overcome the high competition for classes, a student can undertake an on-campus service or job such as being a resident advisor, peer...
Read full comment
"
Go into this department with your eyes open. When I went there, the professors were great (most) and classes were fine, but the student teaching plac...
Read full comment
"
Hope y'all have better luck but I wouldn't come here if I had any other choice. Real unfriendly campus, administration is a headache, housing is atroc...
Read full comment
"
I have always wanted to major in Accounting so I choose this school because I cannot get into UCSB/CAL/UCI. My options at that time was SJSU VS UCSC. ...
Read full comment
"
I started at SJSU Fall 2009. I came from southern California. I was looking for a good college experience by moving far away. It is about 5 and a half...
Read full comment