Hillsborough Community College
Breakdown of "Social Life" at HCC
By Major
| | |
| --- | --- |
| Biology | F |
| Business - Management and Administration | C- |
| Civil Engineering | D- |
| Communications | F |
| Computer Science | D |
| Criminal | F |
| Education | F |
| Engineering Department | C |
| Fine Arts - Painting/Sculpture/Photography/etc | D+ |
| History/Histories (art history/etc.) | C- |
| Journalism | B- |
| Nursing | D- |
| Other | D+ |
| Perfomance Arts | B+ |
| Pharmacy | F |
| Philosophy | C |
| PreDent and Dentistry | C |
| PreMed and Medical | D |
| Psychology | A- |
| Sociology | F |
| Undecided | F |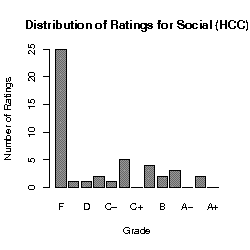 Against similar schools
Social Life compared with similar schools in class.
Social Life
"
... There is ZERO diversity-if you don't believe in communism and social change the faculty-will openly hate you ...
Read full comment
"
... I broke it up into sections you don't have to read it all here is a list of the contents in order: Undergrad Survey/Safety/Resource/Aesthetics/Mai...
Read full comment
"
... Stop brainwashing the students almost all of the professors (at least in Sociology and History)are anti-American marxists, communists and socialis...
Read full comment