Breakdown of "Extracurricular Activities" at MDC
By Major
| | |
| --- | --- |
| Accounting | C+ |
| Anthropology | C- |
| Architecture | D- |
| Biology | C+ |
| Business - Management and Administration | B- |
| Chemistry | D |
| Computer Engineering | F |
| Computer Science | C+ |
| Criminal | D+ |
| Education | C- |
| English | F |
| History/Histories (art history/etc.) | D+ |
| Mechanical Engineering | C+ |
| Neuroscience/Cognitive Science | F |
| Nursing | D- |
| Other | D |
| Pharmacy | F |
| Political Science | D |
| PreLaw and Legal | D- |
| PreMed and Medical | F |
| Psychology | C- |
| Radiological Sciences | C- |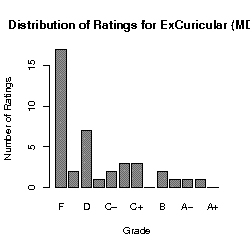 Against similar schools
Extracurricular Activities compared with similar schools in class.
Miami Dade College
D+
Average of All Schools
B-
Average of schools in class
B+
---
South Cheshire College
B-
Ohio Wesleyan University
B+
Extracurricular Activities
"
... There are some clubs, sports, and activities that students can participate in, but not that many ...
Read full comment
"
... Now having said that here is what you will find: MDC is come in take classes and get out, dont expect any activities in-school or groups or an...
Read full comment
"
... Besides social activities, if you just need a degree, go to MDC get your AA and transfer ALL (I REPEAT, ALL) your credits to a long list of st...
Read full comment