Breakdown of "Surrounding City" at MDC
By Major
| | |
| --- | --- |
| Accounting | A+ |
| Anthropology | B |
| Architecture | B- |
| Biology | B+ |
| Business - Management and Administration | B |
| Chemistry | D- |
| Computer Engineering | B+ |
| Computer Science | C+ |
| Criminal | B- |
| Education | B |
| English | C- |
| History/Histories (art history/etc.) | A- |
| Mechanical Engineering | A- |
| Neuroscience/Cognitive Science | A+ |
| Nursing | B |
| Other | C- |
| Pharmacy | A |
| Political Science | B+ |
| PreLaw and Legal | B |
| PreMed and Medical | B+ |
| Psychology | C- |
| Radiological Sciences | A |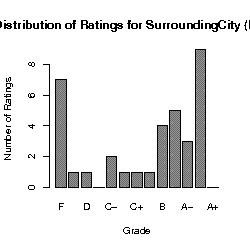 Against similar schools
Surrounding City compared with similar schools in class.
Miami Dade College
B
Average of All Schools
B-
Average of schools in class
B-
---
South Cheshire College
B
Ohio Wesleyan University
B-
Surrounding City
"
... ITs easy to slack because although the student life sucks, the surrounding city, MIAMI offers great night life ...
Read full comment
"
... Although I've always been a very bright person, I was not a particularly good student in high school because I always felt so under-challenged...
Read full comment
"
... Miami Dade College is more of the Michelle Pfeiffer teaching inner city kids while Coolio is playing in the background, type of place ...
Read full comment