Breakdown of "Collaboration/Competitive" at Stanford
By Major
| | |
| --- | --- |
| Aerospace Engineering | B- |
| Archaeology | A+ |
| Art & Design Department | B+ |
| Biology | B+ |
| Chemical Engineering | A+ |
| Chemistry | B |
| Civil Engineering | B- |
| Computer Engineering | B+ |
| Computer Science | B |
| Economics | B+ |
| Electrical Engineering | B |
| Engineering Department | A- |
| English | C+ |
| Fine Arts - Painting/Sculpture/Photography/etc | A |
| History/Histories (art history/etc.) | B |
| Linguistics | A |
| Math | D- |
| Mechanical Engineering | C+ |
| Nuclear Engineering | A+ |
| Other | A- |
| Philosophy | A+ |
| Physics | B- |
| Political Science | A- |
| PreLaw and Legal | A |
| PreMed and Medical | A- |
| PreVet and Veterinary | A |
| Psychology | A |
| Public Policy | A+ |
| Religion/Religious | A |
| Social Work | A+ |
| Undecided | B+ |
| Zoology | A |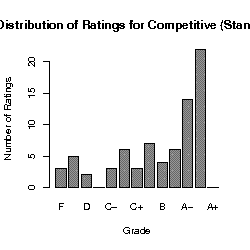 Against similar schools
Collaboration/Competitive compared with similar schools in class.
Collaboration/Competitive
"
... The truth is that the competition becomes tougher than ever, you will always be worried about getting into "the next step", and you will work har...
Read full comment
"
Going to Stanford was one of the best decisions I have made. That said, my positive experiences were not necessarily due to the University's poilicie...
Read full comment
"
I'm a third year undergrad at Stanford, and boy has this place turned me into a walking pile of sit. I hate how snotty the students are. I hate the cr...
Read full comment
"
... How do Stanford's engineering students fare when pitted against other students in competition ...
Read full comment
"
What other school can you name that can boast both MIT and Harvard as equal competitors? This school is so full of life, and the classes are more t...
Read full comment