Breakdown of "Friendliness" at Stanford
By Major
| | |
| --- | --- |
| Aerospace Engineering | B |
| Archaeology | A+ |
| Art & Design Department | A |
| Biology | B+ |
| Chemical Engineering | A+ |
| Chemistry | B |
| Civil Engineering | C |
| Computer Engineering | A- |
| Computer Science | A- |
| Economics | B+ |
| Electrical Engineering | B+ |
| Engineering Department | B+ |
| English | B- |
| Fine Arts - Painting/Sculpture/Photography/etc | F |
| History/Histories (art history/etc.) | B+ |
| Linguistics | A- |
| Math | C- |
| Mechanical Engineering | C- |
| Nuclear Engineering | A+ |
| Other | A |
| Philosophy | A |
| Physics | A |
| Political Science | B+ |
| PreLaw and Legal | A+ |
| PreMed and Medical | A+ |
| PreVet and Veterinary | A+ |
| Psychology | A+ |
| Public Policy | A |
| Religion/Religious | A+ |
| Social Work | A+ |
| Undecided | B+ |
| Zoology | B+ |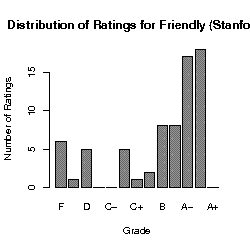 Against similar schools
Friendliness compared with similar schools in class.
Friendliness
"
... Stanford does a stellar job of selecting friendly, outgoing, relaxed, well-rounded and social students ...
Read full comment
"
... Despite my slight anxiety coming in, it turned out to be easy to meet people, make friends, etc; the social environment is very open and friendly...
Read full comment
"
... those on the east coast), I think our warm and relaxed atmosphere helps to keep everyone humble, open, friendly, and passionate ...
Read full comment
"
... They are all-too-happy to enjoy Stanford's resources, but are student-unfriendly, shutting down the city at early hours so they can go to bed an...
Read full comment