The University of California - Berkeley
Breakdown of "Surrounding City" at UC-Berkeley
By Major
| | |
| --- | --- |
| Architecture | C+ |
| Architecture & Urban Planning Department | A- |
| Art & Design Department | A |
| Biology | B |
| Business - Management and Administration | B |
| Chemical Engineering | A |
| Chemistry | B+ |
| Civil Engineering | A |
| Communications | A- |
| Computer Engineering | A |
| Computer Science | B |
| Criminal | B+ |
| Cultures/Civilization | A+ |
| Economics | B- |
| Education | A+ |
| Electrical Engineering | B- |
| Engineering Department | A- |
| English | B+ |
| Fine Arts - Painting/Sculpture/Photography/etc | C |
| Genetics | B- |
| Geography and Geosciences | A |
| History/Histories (art history/etc.) | B+ |
| Journalism | A |
| Linguistics | A |
| Math | B |
| Mechanical Engineering | B+ |
| Natural Resources | A |
| Nursing | A+ |
| Other | A- |
| Pharmacy | F |
| Philosophy | B- |
| Physics | A- |
| Political Science | B+ |
| PreLaw and Legal | C+ |
| Psychology | A- |
| Religion/Religious | B |
| Social Work | C+ |
| Sociology | A- |
| Undecided | B+ |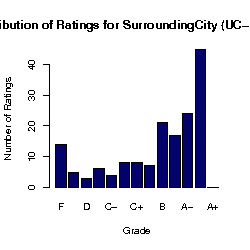 Against similar schools
Surrounding City compared with similar schools in class.
Surrounding City
"
I highly recommend Berkeley. My time there was some of the best of my life thus far. Simply saying I graduated from Berkeley has helped me get work ...
Read full comment
"
It's a large system, and it's designed to weed out the weak, but the overall experience is inherently valuable because the challenges are great. The ...
Read full comment
"
... I've grown to love the eccentricities of the city of Berkeley and the beauty of the campus, and very little can beat San Francisco in terms of t...
Read full comment
"
The people here take you in as you are. There aren't many cliques and we understand that you got in because there was something "weird" about you. T...
Read full comment
"
Academically speaking Cal Berkeley is a top notch place to be. I'm five years out of college and I am technically well more qualified than my friends ...
Read full comment
"
As a first year student, I expected to be faced with some challenges in college. As much as I had heard about the "competitiveness" of the student bo...
Read full comment
"
Come to UC Berkeley for the top-notch academics. Everyone here knows that Berkeley is ranked as the top public school in the country, and we're all h...
Read full comment
"
Berkeley is the most overated university in the country. While competition is fierce - to the point that scholastic integrity is nonexistent - qualit...
Read full comment