Breakdown of "Collaboration/Competitive" at BSC
By Major
| | |
| --- | --- |
| Business - Management and Administration | C |
| Design Arts - Industrial Design/Graphic Design/etc | A- |
| Nursing | A |
| Other | C- |
| Physical Therapy/Exercise Science | B |
| Undecided | F |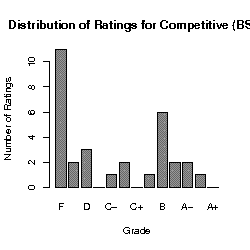 Against similar schools
Collaboration/Competitive compared with similar schools in class.
Collaboration/Competitive
"
Bay State does not offer many amenities, but its back bay location provides endless possibilities. Classes, dorms, and food are mostly OK. If you like...
Read full comment
"
if you are considering in enrolling at Bay State, make sure it's for the right reasons. Don't put all your eggs in one basket. If you don't mind livin...
Read full comment
"
This school BLOWS. I came here from Vermont and I thought that I could get a more decent education by going to the big city (compared to where I'm fro...
Read full comment
"
Going to this school was a big waste of money, definitly not worth it. The dorms were small and old... we had 4 girls in a room nearly big enough and ...
Read full comment
"
I am a 2nd year school, and the best way to look at this school is as an independent minor league team. Test the collegiate waters and be all you can ...
Read full comment
"
Bay State College is a scam. They put on a show just to get you there, then treat you like shit once your in. I've gotten yelled at by my advisor for ...
Read full comment
Recently Reviewed Colleges!