Breakdown of "Collaboration/Competitive" at Becker
By Major
| | |
| --- | --- |
| Animal Studies | C+ |
| Art & Design Department | B- |
| Business - Management and Administration | D+ |
| Criminal | C |
| Design Arts - Industrial Design/Graphic Design/etc | B- |
| Education | F |
| English | B+ |
| Interior Design | C+ |
| Kinesiology | D+ |
| Nursing | C |
| Other | D- |
| Physical Therapy/Exercise Science | D+ |
| PreLaw and Legal | B+ |
| PreVet and Veterinary | B |
| Psychology | F |
| Undecided | D- |
| Video/Media | B |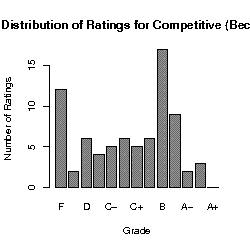 Against similar schools
Collaboration/Competitive compared with similar schools in class.
Collaboration/Competitive
"
I am a Freshman here at Becker college and so far I'm loving it here. The other students are very friendly and there is always something to do here ou...
Read full comment
"
There is a lot to do in Worcester. There are plenty of resteraunts and malls close by. Most stores and resteraunts are within walking distance. Bot...
Read full comment
"
Becker College is a joke. I'm only here because it's free, but even with it being FREE I AM STILL TRYING TO ESCAPE. Since the classes are so easy I'm...
Read full comment
"
My year and a half here at Becker has been the best 18 months of my life. It is very easy to get to know the other students and establish a solid grou...
Read full comment