The University of Connecticut
Breakdown of "Collaboration/Competitive" at UConn
By Major
| | |
| --- | --- |
| Animal Studies | B |
| Anthropology | C+ |
| Art & Design Department | B+ |
| Biology | B |
| Business - Management and Administration | B |
| Chemical Engineering | D+ |
| Chemistry | A |
| Civil Engineering | B |
| Communications | B |
| Computer Science | A- |
| Economics | B+ |
| Education | B- |
| Electrical Engineering | A- |
| Engineering Department | B- |
| English | B- |
| Finance | B+ |
| History/Histories (art history/etc.) | B+ |
| Journalism | B |
| Language - French/Spanish/etc. | A |
| Math | C |
| Mechanical Engineering | B- |
| Music Education | A |
| Natural Resources | A |
| Neuroscience/Cognitive Science | B+ |
| Nursing | B |
| Other | B |
| Physics | B |
| Political Science | A- |
| PreMed and Medical | B+ |
| Psychology | B |
| Public Health | A+ |
| Public Policy | A+ |
| Social Work | A- |
| Sociology | B |
| Undecided | B |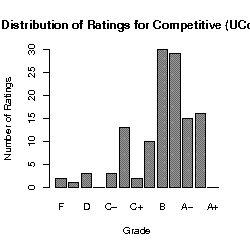 Against similar schools
Collaboration/Competitive compared with similar schools in class.
Collaboration/Competitive
"
If you don't like UConn, there is only one reason: you are lazy. Obviously UConn is a huge school with tons of kids. But as an incoming Sophomore, I h...
Read full comment
"
I was a graduate student in the NEAG School of Education. I won't risk the chance of being outed and list the exact program, but let's just say it's n...
Read full comment
"
I grew up n a small town under a microscope. I loved the large size of UConn. The campus is beautiful. The fact that there is no town or city near UCo...
Read full comment
"
Me: I was a resource economics major in the agriculture school (not an option), not in the liberal arts school, so I put my department as public polic...
Read full comment
"
What I am about to write is about my own experience at UConn. Of course, everyone's experience is different and I just wanted to provide my own person...
Read full comment
"
I transferred to UConn my junior year of college after attending Villanova University my freshman year and UConn Stamford for my sophomore year. I reg...
Read full comment
"
When I was first applying to schools my senior year of high school, I wanted a big campus with D1 sports, but also a good education. All signs pointed...
Read full comment
"
If you are looking to come to a school with a great city life, it is not here. You are in the middle of no where, we may have more cows than students....
Read full comment
"
With so many people on such a large campus, there is endless opportunity with meeting people with similar interests, finding the perfect major and cla...
Read full comment
"
I am from Connecticut and have always wanted to come to uconn. I absolutely love coming here. Some of the kids are snooty and stuck up but that is to ...
Read full comment